We wish you a very Happy and Blessed Easter
We are open for public worship in church
Sunday Parish Mass at 10.30am and Wednesday Mass at 12noon will be held in church and are live streamed and can be watched at any time.
See our Worship Page for more links and information.
The Easter 2021 St Peter's Review is now online here
HRH The Duke of Edinburgh
At St Peter's we join with the nation in offering our condolences to Her Majesty the Queen and the Royal Family on the death of Prince Philip.  Please see below ways that you can play a part in national mourning and commemorate the Duke of Edinburgh's life:
The Church of England has established an online Book of Condolences here.
We will, with Churches across the country, be including a period of prayer for Prince Philip and the Royal Family during our Mass on Sunday 11th April.
We are awaiting more information about holding a short service in the day or days before the funeral, and will toll our bells immediately before the funeral.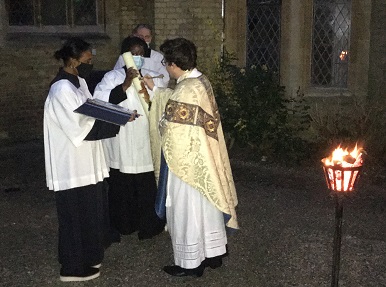 Anti-Racism Charter
We are pleased to report that the Diocese of Southwark has adopted an Anti-Racism Charter.
"Being anti-racist is not the same as simply not being racist. It is not enough as a Diocese not to be racist; instead we must actively counter, disrupt and oppose
racial injustice."
You can read more here